Virtual office at 7 Złota St. office room no. 28, 6th floor – gallery
The Virtual office at 7 Złota St. office room no. 28, 6th floor is our closest location to the Palace of Culture amid our three virtual offices.
Our other virtual offices in Warsaw are located also in the city centre at 85 Jerozolimskie Ave. and 11 Mazowiecka Str.

The Palace of Culture can be seen in the pictures of the building at Złota 7. The Złota 7 building was erected in 1937 as a luxury building equipped with its own cinema room. Since the building was owned by the Italian company Assicurazioni Generali Trieste and Italy was a German ally, it was not destroyed during World War II.
The building at Złota 7 is separated from the Palace of Culture by Marszałkowska Street, which has an underground passage. This enables you to easily park your car close to the Palace of Culture and take a short walk to Złota Street. The parking lot next to the Palace of Culture is huge and there is always plenty of parking spaces there. You can pay for it with an ATM card at the parking security booth. Złota 7 tenement house is mostly used as an office building and houses such companies and institutions as Showroom Złota7, Pozytywni w tęczy, Bgn sp. z o.o., Iami sp. z o.o., Polish Sports Bridge Society, Nasze Fokusowanie, Fundacja Mederi, Mavi Group, Kancelaria Notarialna Katarzyna Budner-Domańska, Małgorzata Nowak Notarial Office, Kancelaria Adwokacka Barbara Adynowska Law Firm, Mariola Kucińska-Teklińska, Przemysław Adynowski, Zawadzka studio, Partia Polityczna Lewica, Polish Psychoanalytic Psychotherapy Society, Psychological and Pedagogical Counselling Centre, Hybrydy, Palladium Theatre.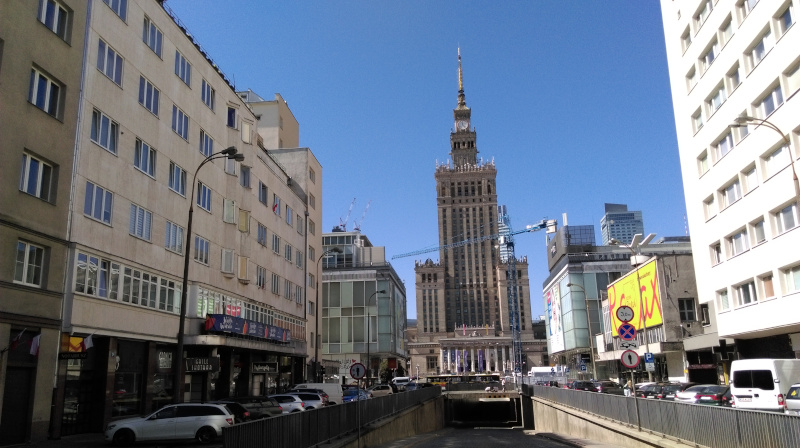 The pictures below were taken in 2021 and 2022.
Some of the pictures show the interior of the virtual office at 7 Złota Str. office room no. 28 in Warsaw, including conference rooms.
The conference rooms are suitable for company board meetings and can accommodate 6 to 8 people.
Please take a look at the high-end decoration of the virtual office premises.
Among other things, the office boasts Foresta interior doors, manufactured for VOX showrooms. These were the most expensive doors in the VOX Interior Doors – Autumn 2021 catalogue.
New furniture was purchased from CentrumKrzesel.pl
In addition, the virtual office is equipped with a Konica Minolta Bizhub 284e multifunction copier-scanner-fax machine.
The pictures show the location of Złota 7 premises, i.e. Centrum Department Stores and the underground passage between Sawa Department Store and the Palace of Culture.
This is the very heart of Warsaw (Warsaw Downtown district), near Warsaw Centrum metro station.


What do ordinary Warsaw people think about the location of the virtual office at Złota Street / Marszałkowska Street?
As among our customers there are many people that have been living in Warsaw since birth, we have asked them what they think about the location of our virtual office at 7 Złota Street and our two offices that were opened earlier, i.e. 85 Aleje Jerozolimskie and 11 Mazowiecka Street. They unanimously answer that the locations at 7 Złota Street and 85 Aleje Jerozolimskie are outstanding places and the location at Mazowiecka Street is mediocre, but also in the centre of the city. In addition, for ordinary Warsaw inhabitants, it is also important that they can easily park their cars there.
In the neighbourhood of Złota Street, it is very easy to find a parking place because there is a gigantic and empty car park around the Palace of Culture, which is connected with Złota Street via an underground passage under the Marszałkowska Street. It is also easy to park a car during the day at the building at Aleje Jerozolimskie. Nowogrodzka Street, which is parallel to Aleje Jerozolimskie, is one large car park of 400 metres. It is more difficult to park a car at Mazowiecka Street, but an underground car park is being constructed under the Plac Powstańców Warszawy. The construction was started in August 2022 and the car park is to be made of four underground levels and 420 parking places.
For more, see:
https://um.warszawa.pl/-/prace-na-pl-powstancow-warszawy
This car park will be also very useful to customers of the virtual office at 7 Złota Street because it is located between Złota Street and Mazowiecka Street.
Inhabitants of Warsaw also paid attention to the location of our virtual offices, in particular the virtual office at 7 Złota Street and the virtual office at 85 Aleje Jerozolimskie, near the recognisable buildings of Warsaw. The office at 7 Złota Street is of course located next to the Palace of Culture and Science and the office at Jerozolimskie Street is located near Varso Tower. Varso Tower is not only the highest building in the European Union, but it is another skyline icon of Warsaw, next to the Palace of Culture and the building at 44 Złota Street.